Reno Hotels Choosy Sugar Twins choose Really cheap
Home About Drinkies Linkies STBE Fun Binh Hotels Theme Nights Blog Messageboard
This took some work since Reno doesn't have the kind of website Vegas does.
After staying at the Silver Legacy last year, we are returning to the Sands for 2020.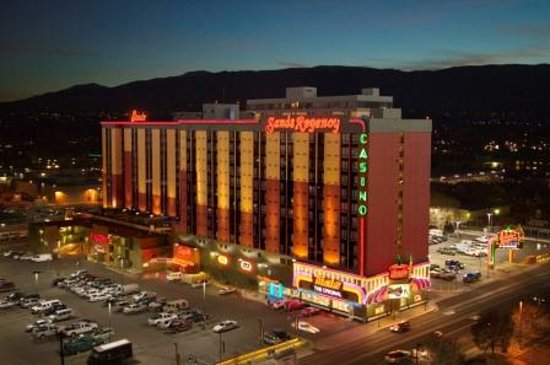 Eldorado

See Circus Circus, except it looked a bit nicer than the Big Top. El D says, "Lose yourself in the nonstop excitement and elegance of our luxurious Reno hotel casino." We say, "by 'lose yourself,' do they mean all of your possessions in a weekend-long gambling binge?"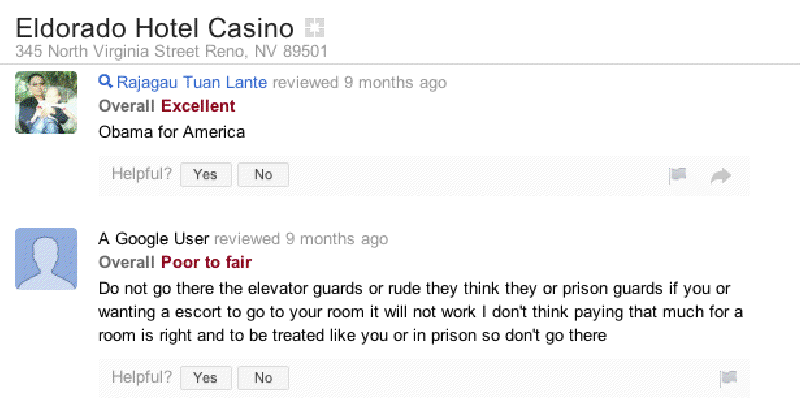 Downtown Hotels
Sands Regency
We actually like this place - the food is good, and the rooms are large and clean. Just make sure you don't get a room near the elevator.
Circus Circus
We stayed here a couple of years ago for Binh's going away trip and thought it was great. It's connected to El Dorado and Silver Legacy, so we never left the building and found plenty to do. The Circus says, "Each room offers a casual and comfortable vantage point from which to take in views of the majestic Sierra Nevada Mountains or downtown Reno's luminous cityscape." We say, "the last time we stayed there, we had a view of a beautiful parking garage."
Silver Legacy

Same deal as the previous two, but again, it looked nicer than the other two hotels. The Silver Legacy says, "Experience the Most Exciting of All Reno Hotels." In all caps. We say, "why are you screaming at us?"
Harrah's

I don't know nothin' about this hotel other than that it must be owned by Harrah's, who owns most of Las Vegas. Harrah's says, "Harrah's Reno offers early check-in or late check-out for a fee, based on availability." We say, "for a fee?!?!?"
Siena Hotel Spa Casino
This place must be new, because I've never heard of it. Siena says, "Located on the banks of the beautiful Truckee River, the SIENA HOTEL SPA CASINO has the comfort and luxury you are looking for and deserve." We say, "can anything with the word 'Truckee' in it really be beautiful?"
Club Cal-Neva
My mom always talks about going to this place to gamble (she's not much of a gambler), and my knowledge ends there. Cal-Neva says, "If you've come to play and have a good time in a friendly environment, you'll see why the Club Cal Neva is one of the best casino hotels in Reno!" We say, "couldn't that statement be true about a lot of places?"
John Ascuaga's Nugget

The only thing I can remember about this hotel is the old commercials featuring John Ascuaga running all over the place with a pedometer on, presumably to illustrate how hard he works to make the Nugget "the premier hotel and resort in Reno." Mr. Ascuaga says, "John Ascuaga's Nugget features over 1,500 hotel rooms in two luxurious hotel towers – East and West, and the Nugget Courtyard." We say, "wow, what creative names for those towers."
Off-Strip (I don't know what else to call it)
Atlantis
If there aren't people riding around on seahorses while carrying tritons, I don't even want to know about this place. Atlantis says, "Treat yourself to VIP check-in, butler service and an exclusive lounge, serving complimentary continental breakfast and afternoon hors d'oeuvres." Tom and Donna say, "treat yo self!!! It's the best day of the year!"
Grand Sierra Resort

I stayed here with Jose and Ashley one weekend when they were in town for a teaching conference. It was pretty nice, but it was also off by itself. The Grand Sierra says, "We'll pack more fun into your Reno vacation than you can imagine." We say, "we'll see about that."
Peppermill
Mike and I stayed here a LONG time ago as members of the Gaucho Pep Band back when the Big West tournament was held in Reno. Let me tell you, you don't remember much after a nine-hour boozy bus ride in the middle of the night. I think there was a station on the TV that was an aquarium and Mike invented a drinking game where you picked a fish and had to drunk when it swam across the screen. Also, it's not near anything but UNR. The Pep' says, "With liberal gaming rules, Peppermill Reno is the proud recipient of a wide variety of distinguished casino awards, including Best Casino and Best Place to Gamble in Reno, NV." We say, "why did they specify that it was Reno, NV? Is there another Reno somewhere that's an even better place to gamble?"